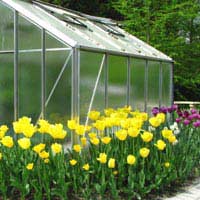 In our cooler British climate, owning a greenhouse opens up an array of possibilities for growing flowers, fruits and vegetables that we might not otherwise be able to enjoy. But for the fugally minded, or those on a tight budget, greenhouses can seen expensive to buy from new. Although prices for an 'entry level' basic greenhouse have reduced in recent years, for some they still remain an expensive 'dream' buy.
But there are ways and means to find a cheap greenhouse, without paying the premium for a new flat-packed model from high street retailers, catalogues or expensive garden centres. It may require a little patience and some research, but ultimately you could be rewarded by saving yourself tens, if not hundreds of pounds in the process!
Freecycle
Freecycle, or 'Freegle' as it is now also known, is a free resource for people looking to recycle their goods, by offering or asking for certain items on an internet group notice board. These Freecycle groups work on a local basis, with the aim of reducing the amount of perfectly usable goods going to landfill. The items offered are given willingly without payment, with the condition of each item usually described in the listing.
Greenhouses do regularly appear on Freecycle listings as 'offered' items – although they do tend to be snapped up quickly, as they're very desirable. More often than not, if someone is lucky enough to be offered a free greenhouse on Freecycle, they will probably have to dismantle and transport the greenhouse themselves. This is quite a laborious task, but one that most are willing to undertake! It is not uncommon for the offered greenhouses to need some repair, such as replacement panes, or a new door – but despite this, continues to be one of the cheapest ways to find a greenhouse.
Local Classifieds and Internet Classified Advertisements
It's always worth scanning your local papers for greenhouses on offer. There are a surprising number of people who are keen to get rid of their greenhouses from their gardens, and as such will sell them for very reasonable prices. Again, buying a cheap greenhouse in this way will mean you'll have to allow for any extra transport or packing costs (such as having to purchase bubblewrap), but there are still some fantastic deals to be found.
Likewise, Internet 'classified' lists such as Craigslist may also prove a useful resource for finding the cheapest greenhouse. But as ever, you should always exercise caution and allow common sense to prevail – it the offer seems too good to be true, it probably is! Never make any payments for items you have not seen, and only ever go to pick up an item if you are accompanied by a friend or family member.
eBay and Other Auction Sites
Another great way to find the cheapest greenhouse is to peruse online auction sites. In recent years, as the popularity of gardening and self-sufficiency has risen, so too have the prices of second-hand greenhouses, as they have become much more sought after. If there are no greenhouse listings in your area, don't be too disappointed, as they do tend to appear quite regularly, and your patience may eventually pay off with a bargain greenhouse purchase!
Again, buying a second hand greenhouse may mean that you have to make some small repairs and replacements yourself, but by and large this method of buying a greenhouse will see you saving some money, provided you don't have to travel too far or hire extra transport to get the greenhouse home. It's always worth keeping in mind the cost of a basic new greenhouse, so that you can be sure that you're not paying above the odds for a second hand model.
High Street Retailers
If you're unlucky with any of the above methods of finding the cheapest greenhouse, it's still worth checking out your local high street retailers. Garden centres tend to be the most expensive option, although they may reduce the prices of their greenhouses out of season – around late autumn and winter – with aluminium framed greenhouses always proving the least expensive option.
And finally, although horticultural glass is also a cheap option for replacing missing panes, consider investing in thick acrylic panes instead. Although this initial cost is higher than greenhouse glass, in the long run you may save a significant amount of money, as acrylic panes rarely break or shatter as a result of high winds or flying objects!