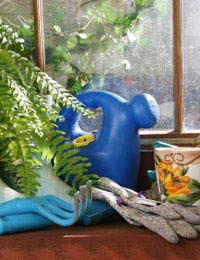 Planting your seeds, taking cuttings or getting plants growing in your greenhouse is only the first step for successful greenhouse gardeners – caring and tending for them regularly is vital, if you're going to grow healthy plants. So, finding time in your busy schedule to regularly tend your plants is essential.
How To Establish a Plant Care Routine
If you're new to greenhouse growing, then it's usual to not yet have established much of a routine for caring and tending for your plants. But if they're going to grow well, it's a good idea to think about how you can best organise your time to allow you to get out into the greenhouse.
If you're retired or not working and don't have major commitments, then you should be able to find time to visit your greenhouse and it should fit around your daily habits reasonably well.
Depending on what plants you're currently growing and how much care they need at any one time, you may want to arrange a time to pop into your greenhouse daily, or once every couple of days. It's something that can easily be done first thing in the morning, after work or during the day.
How Often Should Greenhouse Plants Be Watered?
Not all greenhouse grown plants need to be watered every day, so when you start growing new plants, check what the individual watering and care recommendations are. A good gardening reference book is useful for this and you could keep it at hand in your greenhouse for future consultation.
Of course, plants may need more water during the summer months and the heat and conditions in your greenhouse can affect your plants. So be guided by the look and feel of your plants too and assess whether you think they need more water.
In addition to watering, some fruits and vegetables, such as tomatoes, benefit from an extra weekly feed to help them grow even better and produce tasty fruit. It's useful to keep tomato or other plant feed in your greenhouse, so that you can make up the appropriate batch each week. This can easily be forgotten, so if you aim to do it on a set day each week, then you're less likely to forget to feed your plants – you can even tick it off on a calendar if you wish.
What Other Care Do Plants Need?
In addition to watering and feeding your plants, other care that they may need during tending time includes removing dead leaves, pricking out extra shoots (e.g. if growing tomatoes), taking cuttings, splitting up seedlings as they grow larger and potting up plants into bigger pots.
All of these tasks can take a bit longer to perform so, although you may not have to do them so regularly, you'll need to allow a bit more time to get them done. You could perhaps schedule all these types of task into one day a month and it may be useful to get them done at a weekend if you're busy working all week.