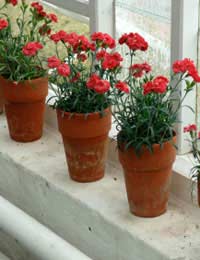 If you've got greenfingers and enjoy gardening, then one avenue you may like to pursue is growing plants for charity. There are all sorts of charities that rely on fundraising efforts to keep them going and there are lots of opportunities to get involved in growing plants for charities. Here's how.
Finding a Charity to Support
In the first instance, it's helpful to find a charity that you'd like to support, either locally or nationally, and find out if they have fundraising opportunities available. Where you're growing plants for charity, it's often easier to get involved with a local charity, or a local branch of a national charity, as it makes life a lot easier if you're transporting plants ready to be sold. It's not impossible to send them through the post, but is a lot more hassle.
Pick a charity that means something to you or supports a cause that you're interested in and let them know that you'd like to help by growing plants.
Planning Charity Plant Growing
There are many ways in which growing plants for charities can be used to support fundraising efforts. Where local events are held, such as table top sales, Christmas fairs or summer fairs, charities often welcome the chance to have plant sales available too. Some charities also hold special plant sales, where the whole focus is on gardening and horticulture, and extra plants for such events are always in demand.
On a smaller scale, you could embark on fundraising yourself by growing plants and selling them to friends, family or colleagues. This is especially useful if there aren't any charity organised events in your area at which plants could be sold.
It's useful to let a charity know in advance that you plan to have plants available for them to sell at their events. If they're planning the type of plants that they'll be able to have available, or any specialist plant stands, then this knowledge is of great use as they plan the event.
Of course, the availability of some plants may depend in part on your success with growing them and nature doesn't always help plant growth go smoothly. Having a greenhouse can help with this to a degree, as the growing conditions can be more controlled than when plants are out in the elements, but there are still likely to be situations when things don't go 100% to plan.
If you've got space and the resources to plant more plants than you'll need, then this does give a bit of backup should any plants fail.
Resources for Charity Plant Growing
Sometimes charities may have a few resources they can provide to help support you with your charity plant growing. For example, nurseries or organisations may be able to provide packets of seeds or bulbs and sometimes are able to donate plants for charity fundraising events.
It's also useful to let friends who are gardeners know what you're doing, as sometimes they're able to donate equipment or gardening gear to your cause – such as plant pots that they don't need anymore or seeds collected from their crop of flowers this year.
Growing plants for charity can be very rewarding, as you not only get to experience the pleasure in seeing your plants grow, but also know they're helping raise money for a charitable cause too.